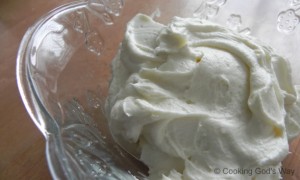 This super fluffy, buttery cream cheese frosting is great for topping most any cake. Such as this coconut cake, or carrot cake, spice cake, even chocolate cake. You won't even miss the sugar in this recipe…though if you are not on a sugar-restricted diet, you may use honey to sweeten this frosting in-place of the stevia – adjusting to taste.
Beat cream cheese and butter together using a hand-held or stand mixer. Beat until creamy.
Add in the remaining ingredients and beat at high speed until nice and fluffy.
Frost cooled cake immediately.
Note: This frosting can be stored for a few days in the refrigerator.
Bring to room temperature before using. If needed "re-fluff" by beating with a mixer.
Makes enough frosting for a 2 or 3 layer cake.
*Sugar-Free / Grain-Free

Email To A Friend

Print This Page