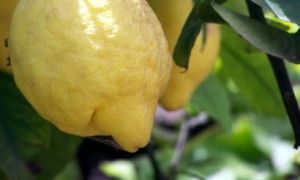 This sauce has the perfect balance of lemony-ness and buttery-ness. It is perfect served over fish, chicken, veggies, or pasta.
1/4 cup chicken broth
1/4 cup lemon juice
1/4 teaspoon dried thyme
1/4 cup cold butter, cubed (cut into pieces)
2 Tablespoons capers, drained and chopped
Pour chicken broth into a small sauce-pan, let come to a boil over medium heat. Add the lemon juice and thyme, allow to come to a boil. Cook until reduced by half, about 8-10 minutes.
Sprinkle the cubed butter into the boiling sauce. Swirl the pan vigorously to dissolve the butter. Never let the butter come to a rest, you must keep swirling the butter around in the pan, or the sauce will separate and become oily. When the butter is completely dissolved and incorporated in to the sauce, remove from heat. Stir in capers.
Serving suggestions: Pour over cooked chicken breast, salmon, other fish, or vegetables of choice.
Makes enough sauce for 4 to 6 servings.
*Sugar-Free / Grain-Free

Email To A Friend

Print This Page