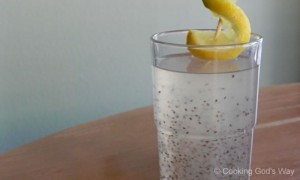 Chia Fresca, also known as 'Iskiate', is an all-natural energy drink made by many tribes indigenous to the American Southwest and Mexico. In particular the Tarahumara tribe would drink it to sustain themselves while running 100-mile ultra-marathons.
This is an easier to get down version, not so thick, but still deliciously satisfying (and easy to make). Chia Fresca can help keep you hydrated during workouts (just be sure to drink enough water if it is a really long workout). You can use either lemon or lime in this drink, whatever your preference. Chia Seeds are an amazing little seed…you can read more about them here.
1 cup cold filtered water
juice of 1 lemon OR lime (about 2 Tbsp.)
5 to 10 drops of Nunaturals Pure Liquid™ Clear Stevia™, to taste (if not a sugar-free diet, you can use 1 to 2 tsp. of honey)
2 Tablespoons Chia Seed Gel (see recipe below)
ice, if desired
Mix filtered water and lemon (or lime) juice together in a glass. Sweeten to taste with stevia (or honey if not on a sugar-free diet).
Prepare Chia Seed Gel as instructed below. Stir in 2 Tablespoons of the chia gel into the lemon water (store any remaining gel covered in the refrigerator for up-to 2 weeks). Serve immediately (with ice if desired), preferable with a straw or stirring stick as the seeds will tend to sink.
*Sugar-Free / Grain-Free
Chia Seed Gel

– 1 Tablespoon Chia Seeds
– 9 Tablespoons filtered water

Mix seeds and water together. Allow to stand 2 to 3 minutes. Stir again. Allow to stand for 10 more minutes. The chia seeds should have formed a nice gel. Store gel covered in the refrigerator for up-to 2 weeks.