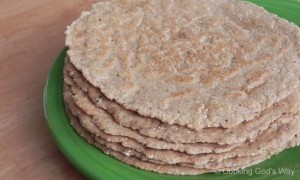 Flatbread is a versatile bread that is easy to make and a tasty way to use some of that sourdough. You can serve them along side any meal or top them with as desired for a quick snack or lunch.
This version of flat bread is deliciously nutty with a light crunch from the sesame and chia seeds. Chia seeds add a boost of nutrition in the form of omega-3s (read more about chia seeds). Using all spelt flour makes a hearty, tasty flatbread… if you prefer a softer, less dense, flatbread you may substitute 1/4 to 1/2 cup all-purpose flour for some of the spelt flour.

1 1/2 cups spelt flour, more or less as needed
1/2 cup sourdough starter, previously fed
1/2 cup filtered water
2 Tablespoons butter or coconut oil, melted and cooled
1/2 teaspoon unrefined sea salt
2 Tablespoons sesame seeds
2 Tablespoons chia seeds
In a medium to large mixing bowl stir together sourdough starter, water, melted butter, and salt.
Add in spelt flour, kneading until a smooth ball of dough forms (dough will be slightly tacky – that's okay).
Knead dough for 2 to 3 minutes. Place in an oiled bowl, turning dough ball over to coat. Cover and let ferment/rise at room-temperature for 8+ hours.
Remove ball of dough to a lightly greased surface. Knead in sesame and chia seeds.
Divide dough, evenly, into 6 balls (about 3.2 oz each). Cover balls of dough with a damp towel and let stand for 10 minutes.
Re-grease surface if necessary and roll out balls of dough into 7 to 8-inch circles about 1/8-inch thick. (I prefer to roll them out on parchment paper, then I can flip them right into the hot skillet and easily peel away the parchment with no ripping.)
Heat a heavy skillet (I use cast iron) over medium heat for a minute or two. Brush the skillet lightly with oil.
Place a dough round in pan and cook for 1 to 2 minutes, until bubbly and browned on the first side. Then flip and cook the other side for another minute or so, until firm.
As each flatbread is done cooking, stack them on top of each other to keep them warm and soft.
Makes 6 flatbreads.


Email To A Friend

Print This Page