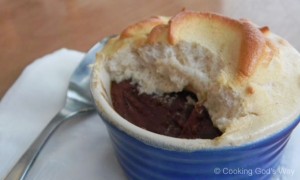 This chocolate pudding is a favorite among all who try it, from kids to adults alike. It has a rich "dark" chocolate flavor that is creamy and decadent.
Serve well chilled, as is, for a "simple" but delicious dessert. Or better yet, go "over the top" and serve it with a meringue topping that will delight your taste buds. Either way it's a yummy treat to enjoy.
2 1/2 cups raw whole milk
1/2 to 2/3 cup rapadura OR sucanat (I use 1/2 c. with about 15 drops of stevia)
1/2 cup unsweetened cocoa powder
1/4 teaspoon unrefined sea salt
2 Tablespoons tapioca starch OR cornstarch
4 large egg yolks (save 2 egg whites for the meringue topping – optional)
2 teaspoons pure vanilla extract
1 Tablespoon butter or coconut oil
Add 2 cups of the milk to a medium saucepan, along with the sugar, cocoa, and salt. Whisk over medium heat until milk is steamy and almost comes to a boil. Remove from heat.
Meanwhile, in a medium bowl, whisk together the remaining 1/2 cup of the milk and tapioca starch until no lumps remain. Beat in the egg yolks. Slowly whisk the hot milk into the egg mixture to temper.
Return all to the saucepan and cook over medium heat whisking constantly, until bubbles pop at the surface. Reduce the heat to low and continue whisking until thickened – about 2 or 3 minutes more. Remove from heat. Whisk in vanilla and the butter, until melted throughout.
Immediately pour the pudding into 4 to 6 small ramekins or custard cups
. If using meringue see further instructions below. If not using meringue, cover with plastic wrap and refrigerate several hours until well chilled and set, preferably overnight.
Serves 4 to 6.
Meringue Topping (optional)

Beat egg whites (2 saved from pudding making), 1/2 teaspoon vanilla, and 1/4 teaspoon cream of tartar until soft peaks form.

Beat in sugar (a total of 2 Tbsp.) in 1 Tablespoon increments. Beat for several minutes, until stiff glossy peaks form.

Immediately spread meringue on top pudding in custard cups, being sure to seal to the edge of the cup.

Preheat oven to 350F. Place cups on a baking tray, put in oven, and bake for about 10 minutes, or until meringue is nicely browned (watch carefully).

Place custard cups in fridge for several hours, until well chilled. Serve cold.

Email To A Friend

Print This Page