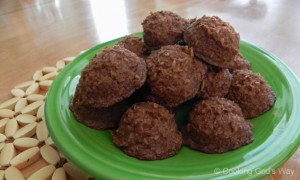 These macaroons are lightly sweetened little gems of chocolate and coconut goodness. They are so deliciously moist inside… you won't be able to eat just one. (But that's OK…they're good for you.) So have a few… I won't tell anyone 🙂
If you are not on a sugar-free diet, you can use 2 Tablespoons of raw honey to sweeten these yummy macaroons instead of the stevia.
3/4 cup milk
1 Tablespoon coconut oil
1 Tablespoon coconut cream concentrate (I use Tropical Traditions brand, it is very good)
pinch (1/16 tsp.) NuNaturals NuStevia™ White Stevia™ Powder (if you are

not

on a sugar-free diet, you can use 2 Tbsp. of raw honey to sweeten instead)
2 Tablespoons unsweetened cocoa powder
1 Tablespoon coconut flour
1 1/2 teaspoons arrowroot powder
1 egg
1 1/4 cup shredded coconut, unsweetened (I use Tropical Traditions brand, it has a nice fine texture)
1 1/2 teaspoons vanilla extract
1/2 teaspoon almond extract
1/4 teaspoon salt
Preheat oven to 375F. Line a large baking sheet with parchment paper (or grease with coconut oil) for easy clean up.
Heat the milk, coconut oil, coconut cream, and stevia powder (or honey) over low heat in a small saucepan. Stir until oil is melted and everything is mixed together. Whisk in the cocoa powder, coconut flour, and arrowroot powder until no lumps remain. Remove from heat.
Meanwhile, beat the egg in a medium mixing bowl. Add the shredded coconut and the rest of the ingredients to the bowl. Pour the milk mixture over-top, fold in until everything is moistened and well combined. Place bowl in the refrigerator until firmed-up, about 10 minutes.
Scoop onto prepared baking sheet using a small cookie scoop, about 1-Tablespoon sized mounds. Space mounds about 1 1/2-inches apart. Bake for 10 to 15 minutes, until edges and tops of macaroons are set and starting to turn golden brown.
Makes about 2 dozen.
*Sugar-Free / Grain-Free