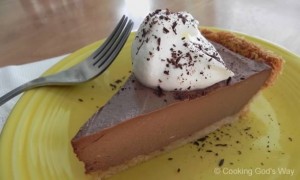 This sugar-free version of a no-bake cheesecake is every bit as satisfying as it's sugar-filled cousin. The coconut crust adds a lovely texture and taste along with the chocolate filling. If you are not on a sugar restricted diet, you may substitute 1/3 c.+ honey for the stevia powder, and instead of vanilla stevia – use 1/2 teaspoon vanilla extract. Either way this dessert is wonderfully delicious… especially topped with homemade whipped cream.
1 1/2 teaspoons unflavored gelatin
3/4 cup heavy cream (whipping cream), preferably raw but NOT ultra-pasteurized
3 ounces unsweetened "baking" chocolate, finely chopped
16 ounces cream cheese, softened
1/4 teaspoon NuNaturals NuStevia™­ White Stevia™ Extract Powder
1/2 teaspoon pure chocolate extract, optional
1 Coconut Pie Crust, baked and cooled (see recipe below)
Homemade whipped cream, if desired (see recipe below)
Sprinkle gelatin over 3/4 cup cold cream in a small saucepan; let stand 1 minute. Cook on low heat 2 to 3 minutes, or until gelatin is completely dissolved, being sure to whisk constantly. Add chocolate, stirring until melted and mixed in. Remove from heat immediately, set aside.
In a large mixing bowl beat cream cheese, stevia powder, vanilla stevia, and chocolate extract (if using) until smooth and creamy. Beat in chocolate mixture until well blended.
Pour mixture into prepared-cooled pie crust. Refrigerate for at least 3 hours before serving. This pie is great topped with fresh homemade whipped cream (see recipe below).
Serves 8+.
* Sugar-Free / Grain-Free
Coconut Pie Crust

This pie crust is adapted slightly from the coconut pie crust recipe found in Nourishing Traditions by Sally Fallon. The crust works great for No-Bake pies or tarts.

1/2 cup butter OR virgin coconut oil, melted
2 cups unsweetened shredded coconut (lightly packed)
10 to 15 drops of Nunaturals Pure Liquid™ Clear Stevia™, optional
arrowroot powder + butter, for greasing/flouring pan

Mix coconut with butter (or coconut oil) in a small bowl. Transfer to a buttered 9-inch pie pan that you have dusted lightly with arrowroot powder. Press firmly and evenly against the bottom and sides of the pan. Bake at 300F for 30 to 35 minutes, or until crust is a dark golden color. (Sometime through the baking time you may notice the crust "puffing up". Simply press down and gently re-adjust with the back of a metal spoon.) Allow to cool to room temperature before filling.

Makes 1 pie crust.

Homemade Whipped Cream

1/2 cup heavy cream (whipping cream), preferably raw but NOT ultra-pasteurized
1/2 teaspoon vanilla extract
Nunaturals Pure Liquid™ Clear Stevia™, to taste

In a medium bowl, stainless-steel is preferable, whip the cream until stiff peaks are just about to form.  (You can do this by hand with a wire whisk, or with an electric mixer; just make sure the beater and bowl are clean and cold for best results.) Beat in the vanilla and stevia until peaks form. Do not over-beat or the cream will become lumpy (and you will actually have butter).