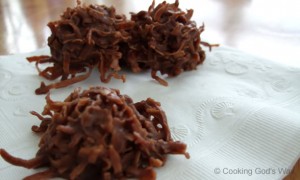 These no-bake macaroons are a special treat anytime…but especially so during the holidays. And the best part is that they are so easy to make.
Get the kids involved…they will have a lot of fun scooping out the cookies! (just let the mixture cool a little so no one gets burned)

1/4 cup virgin coconut oil
1/4 cup Valencia peanut butter
OR homemade peanut butter
1/4 cup Real Maple Syrup
1/4 teaspoon sea salt
2 Tablespoons unsweetened cocoa powder
1/2 teaspoon pure vanilla extract
1 cup coconut flakes (I like to use this brand)
To a medium saucepan add the coconut oil, peanut butter, maple syrup, salt, and cocoa. Stir continuously over medium-heat.
Let mixture come to a boil. Allow to boil for 1 minute.
Remove from heat and stir in vanilla and coconut flakes until thoroughly coated.
Drop Tablespoon-sized mounds onto parchment paper. Place in fridge to firm up, and keep there until you are ready to eat.
Makes 1 dozen.