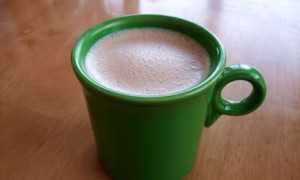 Hot cocoa is a favorite old-fashioned drink that everyone enjoys. This version is creamy, chocolaty, and good for you…especially if you go light on the sweetener 🙂
This recipe is safe for sugar-free diets, when using stevia as the only sweetener.
1 cup raw milk
1 Tablespoon unsweetened cocoa powder
tiny pinch of unrefined sea salt
1/4 teaspoon vanilla extract
sweetener of choice, to taste (see chart below for recommendations)
Heat milk and cocoa in a small saucepan, stirring with a wire whisk often.
Remove from heat; add a tiny pinch of salt, the vanilla and sweetener of your choice, to taste. (Remember, if you're on a sugar-grain free diet, use only stevia for sweetening.)
Stir well and serve immediately.
Extra Flavoring Options:
– 1/4 tsp. ground cinnamon
– 1/4 tsp. peppermint extract, or more to taste
Sweetener of Choice
*Sugar-Free*

Use only Stevia

Stevia Powder, to taste
(usually just a pinch)
Stevia Liquid, to taste
(several drops)

Maple Syrup

Raw Honey

Rapadura
(whole, unrefined sugar)
Serves 1.
*Sugar-Free / Grain-Free – when using stevia for sweetening

Email To A Friend

Print This Page