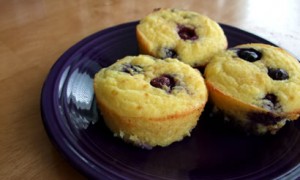 These muffins are made with coconut flour, which is high in fiber and protein.
The lemony flavor of these muffins combine with the blueberries so well. These are by far my favorite coconut flour blueberry muffin recipe.
6 large eggs
1/4 teaspoon unrefined salt
1/4 cup fresh lemon juice
2 Tablespoons fresh lemon zest
1 stick (1/2 cup) butter, melted
2/3 cup coconut flour, sifted
1 teaspoon baking soda
1/4 teaspoon  NuNaturals NuStevia™ White Stevia™ Powder
1 cup plain yogurt
2/3 cup blueberries (plus a few extra to sprinkle on top, if desired)
Heat oven to 375°F. Grease a muffin pan with a generous amount of butter or coconut oil; this is very important because the muffins will tend to stick if you don't.
In a large bowl, with a wire whisk, beat the eggs, salt, lemon juice, and lemon zest. Slowly whisk in the butter in a steady stream.
In another bowl, mix together the dry ingredients – coconut flour, baking soda, and stevia powder.
Slowly add the dry ingredients to the wet ingredients and mix with a spoon/spatula until thoroughly combined.
Fold the yogurt into the batter, followed by the blueberries.
Divide the batter among the 12 greased muffin cups. Sprinkle tops with a few extra blueberries, if desired (it just makes for a nicer appearance). Bake for 15 to 20 minutes, until done – tops and edges of muffins will be light golden, and a toothpick inserted in center of muffin will come out clean.
Makes 12-14 muffins.
*Sugar-Free / Grain-Free

Email To A Friend

Print This Page