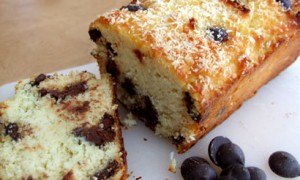 These little pound cakes are a great grain-free treat, perfect for Easter celebration or anytime. They are made with naturally sweet coconut flour, filled with shredded coconut, and kissed with chocolate chips. My kids especially love these little loaves…. their words exactly, "They're yummy!" 🙂
1/4 cup (1/2 stick) butter, softened
4 ounces cream cheese, softened
1/4 cup raw honey, softened if needed
pinch (1/16 teaspoon) NuNaturals NuStevia™ White Stevia™ Powder (optional – can omit and use more honey)
4 large eggs
2 teaspoons vanilla extract
1 1/2 cups raw whole milk or coconut milk
1/2 teaspoon sea salt
1 1/2 teaspoons baking powder
1 cup coconut flour, sifted
1/2 cup bittersweet chocolate chips (60% to 70% cacao)
1/2 cup shredded unsweetened coconut, plus more for sprinkling tops
Preheat oven to 350°F. Generously grease 3 mini loaf pans with coconut oil, set a side.
In a large bowl, cream together the butter and cream cheese until creamy. Beat in the honey and stevia until light and fluffy. Next beat in the eggs, one at a time, scrapping the bowl in-between as necessary.
Stir in the milk and vanilla; followed by the salt, baking powder, and coconut flour. Gently fold in the chocolate chips and shredded coconut.
Divide batter among the prepared loaf pans. Sprinkle top of batter with some more shredded coconut. Bake for 40 to 50 minutes, until a toothpick inserted in the center comes out clean. Let loaves cool for 5 minutes in pan. Invert on a cooling rack and let cool completely.
Makes 3-mini loaves.