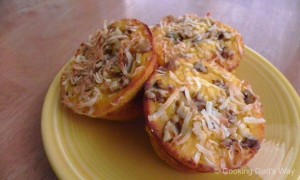 These grain-free muffins are a tropical delight any time of year, no matter what the weather! Lightly sweetened, filled with delicious pineapple pieces, and topped with walnuts and coconut – they are hard to resist….
It's a good thing these muffins are good for you!

3/4 cup coconut flour
6 large eggs
1/4 to 1/3 cup honey
3/4 cup plain yogurt or unsweetened applesauce
1/4 cup butter or coconut oil, melted
1/4 teaspoon unrefined sea salt
1/2 teaspoon orange extract (or 1 teaspoon fresh orange zest)
1 teaspoon baking powder
1/2 teaspoon baking soda
1 cup fresh diced pineapple, drained of excess juice but still wet
Chopped Walnuts and Shredded Coconut, for topping
Preheat oven to 350F. Grease muffin pan very well with coconut oil or palm shortening, set aside.
Beat eggs in a large mixing bowl. Whisk in honey until incorporated, followed by yogurt (or applesauce), butter (or oil), salt, orange extract (or zest), baking powder, and baking soda.
Sift in the coconut flour, stirring until moistened through. Gently fold in the diced pineapple until combined.
Fill prepared muffin cups about 3/4 full. Top with chopped nuts and shredded coconut, lightly pressing down into batter.
Bake for 20 to 25 minutes, or until a toothpick inserted in the center of muffin comes out clean.
Makes 1-dozen, regular-sized muffins.