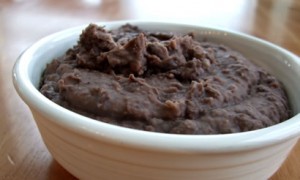 Making refried beans in your crock-pot couldn't be easier. This recipe makes enough to last for several meals….and the beans will keep in the fridge for a couple of weeks. Serve these refried black beans with anything from tacos to fried eggs and salsa. When making these beans I like to start in the AM, allowing them to soak all day, then starting the cooking process at night (before I go to bed), that way I can finish them up the next day. But you can start them when it fits into your schedule.
3 cups dried black beans
filtered water
1 Tablespoon whey or lemon juice
1 bay leaf
2 cups + chicken broth (homemade is best, but use what you have as long as it has no added sugar)
2 Tablespoons virgin coconut oil
sea salt, to taste
1 to 2 pinches chipotle chili powder (optional)
Soak the Beans: Rinse and sort your beans (discarding any debris or stones), place in the container of a 5 to 6-quart crock-pot. Completely cover the beans with plenty of filtered water and add 1 Tbsp. whey or lemon juice. Cover and allow the beans to soak for 8 to 12 hours.
Cooking the Beans: After the beans have soaked for 8 to 12 hours, drain the beans…discarding the soaking water. Return the beans to the crock-pot and cover completely with fresh filtered water. Add 1 bay leaf and cook on low for about 8 hours, or until very tender.
When the beans are very tender, drain them again discarding the cooking liquid, and return them to the crock-pot. Mash the beans up slightly with the back of a wooden spoon. Add about 2 cups of chicken broth and 2 Tbsp. of coconut oil, stir this in, while continuing to mash the beans.
You may keep mashing the beans to your desired consistency with the back of the spoon, or you may do what I like to do. And that is use an immersion blender. Just insert the immersion blender into the pot of beans and pulse, while moving the blender around the pot. Do this until the beans are the consistency you wish. I like creamy, mostly pureed beans with just a little broken up pieces throughout.
Once you have gotten the beans mashed how you like them, keep the crock pot on low and continue to cook down until thickened. Season to taste with salt and chipotle chili powder, if desired.
Makes 6 to 8 cups.
*Sugar-Free / Grain-Free