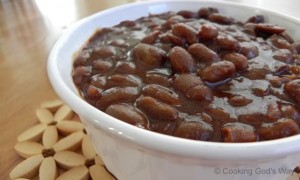 These homemade "baked" beans are not actually baked in the oven, but made in the crockpot. They are so delicious…better than any can of beans you can buy at the store. They're also better for you, as they are made with wholesome ingredients and no chemicals or preservatives. Even my son, who hates the "canned" baked beans, really enjoys these homemade baked beans.
4 cups dried navy beans, sorted
1 large onion, finely diced
1 can (6 oz.) tomato paste
4 Tablespoons unsulphured molasses
1/2 cup real maple syrup
3 to 4 Tablespoons fat – such as lard, beef tallow, bacon fat, coconut oil, or butter (you can use any combination – I used coconut oil & butter)
1 Tablespoon raw apple cider vinegar
1 teaspoon mustard powder
1/4 teaspoon ground black pepper
1/4 teaspoon chipotle chili powder (optional – gives smoky flavor, if not using substitute more black pepper)
3 cups filtered water
3 to 4 teaspoons unrefined sea salt, to taste (I used smoked sea salt for a smoky flavor)
2  to 4 Tablespoons maple sugar OR rapadura / sucanat, if a sweeter taste is desired (optional)
Sort through beans, discarding any broken pieces and stones or debris. Place beans in 5 to 6-quart crockpot, cover with plenty of warm filtered water. Set cover on top of crockpot and allow beans to soak at room-temperature for 8 to 12 hours,  do not turn crockpot on. (I usually do this step in the morning, allowing them to soak all day…then follow with the cooking process before I go to bed at night, which takes a total of 16 to 20 hours.)
After a good 8+ hour soak, drain beans and place back in crock pot.
Add all remaining ingredients, except salt and extra sugar. Stir well to incorporate. Turn crock pot on low, cover, and allow to cook for 10 to 12 hours, until beans are "just" getting tender. (In the beginning stir frequently until all ingredients are melted together.)
Stir beans well, season to taste with salt and any extra sugar (if desired). Allow beans to cook for 6 to 8 more hours, stirring occasionally, until beans are completely tender and liquid is thickened.
If liquid thickens too quickly, before beans are tender, you may add additional water as necessary during the cooking process.
Serves 10 to 12 (or more).