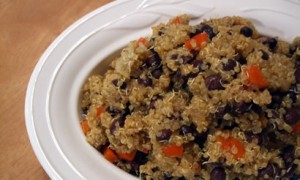 Quinoa is not technically a grain, but the seed of a plant. You can use quinoa where ever you would normally use rice or couscous. Quinoa naturally has a coating of saponin, a bitter taste, which deters insects and birds. Rinsing the quinoa well with warm water is important to remove the saponin. Serve this quinoa recipe as a delicious hot pilaf, or a scrumptious cold salad.
1 cup organic quinoa
2 cups filtered water
1 Tablespoon yogurt or raw apple cider vinegar
1 cup chicken broth (or 1 cup water + 1/2 teaspoon sea salt)
1 Tablespoon coconut oil (can use butter, but use medium heat only)
1/2 red or green bell pepper, finely chopped
1/2 medium onion, finely chopped
1/2 teaspoon garlic, minced
1/2 teaspoon chipotle chili powder (or use 1 tsp. ancho chili powder, for less heat)
1/2 teaspoon ground cumin
1/2 teaspoon dried, crumbled mexican oregano (can substitute regular oregano in a pinch)
1 can (15-ounces) black beans, drained and rinsed
salt and pepper, to taste
1 to 2 Tablespoons lime juice
fresh cilantro, finely chopped, for garnish (if desired)
8 to 12 hours before you want to make the Quinoa: Rinse the quinoa well, in a fine mesh sieve, with warm water (this will remove the bitter saponin). Place the rinsed quinoa, 2 cups water, and yogurt/vinegar in a medium bowl. Cover and allow to soak overnight, or 8 hours.
The next day, or about 8 hours later, when you want to make the Quinoa: Drain the soaked quinoa in a fine mesh sieve. Place the drained quinoa and broth (or water) in a medium-sized saucepan and bring to a boil. Cover, reduce heat, and simmer 15 minutes until quinoa is tender and most of the liquid is absorbed.
While the quinoa is cooking in a small saute pan, melt the coconut oil over medium-high heat. Add the peppers and onions, saute until tender. Add the garlic, chipotle powder, cumin, and oregano, saute 1 minute more. Remove from heat and set aside until quinoa is done cooking.
When quinoa is done cooking, with only a little liquid remaining, Add the pepper-onion mixture, along with the drained can of beans, to the saucepan with the quinoa. Stir to combine, cover and cook for approximately 5 minutes more, until everything is heated through.
Remove from heat, season to taste with lime juice and salt/pepper, as needed. Garnish each serving with a little finely chopped, fresh cilantro, if desired. Great served with Adobo seasoned grilled/broiled chicken breast.
Serves 4 to 6.