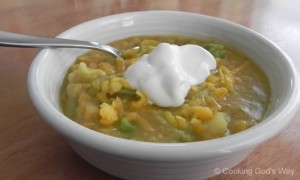 This curried split pea soup is delicious for lunch or dinner, and is extra tasty with some shredded cheddar cheese and sour cream on top. In our house not everyone loves a lot of "curry" flavor, so I keep it pretty light… but feel free to double or triple the curry powder as required for your tastes. The soup is pretty feeling as is, but some diced or shredded cooked chicken could be a nice addition.
2 Tablespoons butter
OR virgin coconut oil (or a combination)
1 medium onion, chopped
1 teaspoon curry powder (or more to taste)
1/4 teaspoon garlic powder
4 cups chicken broth
1 1/2 cups yellow split peas, sorted and rinsed (use green if you cannot find yellow)
12 ounces frozen Broccoli-Cauliflower mix, thawed and cut into bite-sized pieces
salt and pepper, to taste
Garnishing Ideas:
– Shredded Cheddar Cheese
– Yogurt or Sour Cream
Melt butter/oil over medium heat in a large saucepan. Add onions and allow to cook for a few minutes to soften.
Stir in curry powder and garlic powder, cook for 1 minute while stirring constantly.
Pour in broth along with split peas. Bring to a boil, reduce heat, cover and allow to simmer for about 30 minutes until peas are very tender and starting to lose their shape.
With a hand-held stick blender
, puree to soup in short/quick bursts until desired consistency is achieved. (We like some texture still in the soup…So I like to leave about half the peas intact.)
Add in the thawed vegetables, stirring for about 5 more minutes or until heated through. If needed, thin the soup with a little water.
Season to taste with salt and pepper. Serve hot with desired garnishes.
Serves 4.
*Sugar-Free / Grain-Free