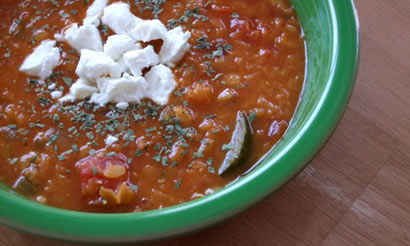 Red lentils are not really "red", but a beautiful orange color. The tomatoes and other veggies in this soup compliment not only the color of the lentils, but the taste as well. It is absolutely wonderful with goat cheese crumbled on top.
1/4 cup (1/2 stick) butter
1 medium onion, chopped (about 1 cup)
2 tsp minced garlic
1 Tbsp ground cumin
2 stalks celery, diced
1 medium zucchini, sliced lengthwise in quarters then 1/4" slices (about 1 1/4 cup)
1 small yellow summer squash, sliced lengthwise in quarters then 1/4" slices (about 2/3 cup)
2 cans (14.5 ounces each) diced tomatoes, undrained
1 quart chicken broth
2 cups red lentils
3 Tbsp tomato paste
pinch of ground cayenne, or more to taste (optional)
salt and pepper, to taste
1 Tbsp lemon juice, more to taste if needed
chopped parsley or cilantro, for garnish
crumbled goat cheese, or thickened yogurt, or sour cream, for garnish
Melt butter in a large 5 quart pot over medium heat, do not let the butter brown. Add onions, garlic, cumin, celery, zucchini, and squash; turn heat up to medium-high and cook for about 5 to 7 minutes or until onions and vegetables are softened.
Stir in the canned tomatoes with their juice. Bring to a simmer and cook, stirring often, for about 5 minutes, until the tomatoes have cooked down slightly.
Stir in the chicken broth, lentils, and tomato paste. Bring to a boil, reduce the heat, cover and simmer for 30 minutes. Add the salt and pepper, to taste, and add cayenne if you want more spice. Taste and adjust salt. Stir in the lemon juice. Serve immediately; garnish each serving with chopped parsley or cilantro and your choice of crumbled goat cheese, thickened yogurt (greek-style), or sour cream. This soup is also great the next day after the flavors have had even more time to meld.
Serves 6 to 8.
*Sugar-Free / Grain-Free

Email To A Friend

Print This Page