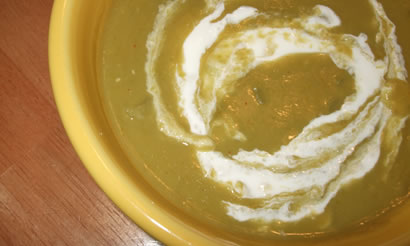 This soup reminds me of springtime. The chipotle chili powder gives just a hint of smokiness, without adding much heat. Be sure to add enough lemon juice to the soup, it gives it a nice bright flavor.
1 Tablespoon extra-virgin olive oil OR coconut oil
1 cup onion, chopped
1 stalk celery, diced
1 quart chicken broth
smidgen of garlic powder
1/8 teaspoon chipotle chili powder, or more to taste
1 teaspoon chile powder blend
1 3/4 cups green split peas, picked over and rinsed
1/2 teaspoon smoked sea salt OR other unrefined sea salt
2 to 4 Tablespoons lemon juice
Sour Cream, to garnish soup
Heat olive (or coconut) oil in a 3-quart pot over medium heat. Add onion and celery; cook until onion starts to turn translucent, about 5 minutes.
Add the chicken broth, garlic powder, chipotle chile powder, chili powder blend, and split peas. Bring to a boil; reduce heat and simmer for 25 to 35 minutes, or until peas are cooked through and tender.
Using a large glass measuring cup, or mug, ladle out 2 cups of the soup and set aside. Using a stick blender (immersion blender), puree the soup that remains in the pot. Add back the reserved soup, stir to combine. Thin soup with a little water if necessary. Season to taste with salt and add lemon juice 1 Tablespoon at a time until desired flavor is reached.
Serve soup with a dollop of sour cream swirled in.
Serves 4 to 6.
*Sugar-Free / Grain-Free

Email To A Friend

Print This Page