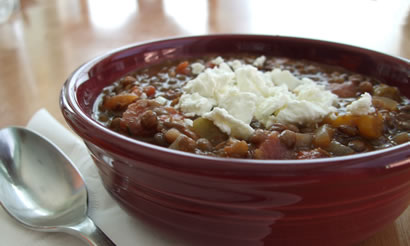 This lentil soup is a wonderful comfort-food meal that is enjoyable anytime of the year. It is great as is, or spice it up and add some cooked, seasoned, ground turkey for that extra touch.
2 Tbsp coconut oil
1 med onion, chopped (about 1 cup)
3 stalks celery, chopped
1 yellow bell pepper, chopped
1 tsp garlic, minced
4 cups chicken broth
1 can (14-1/2 ounces) diced tomatoes
1-1/4 cup french green lentils
1 tsp dried oregano
salt and pepper, to taste
cayenne pepper, to taste (optional)
2 Tbsp balsamic vinegar
extra-virgin olive oil, for garnish
chopped parsley, cilantro, or celery leaves, for garnish
Try this soup with Cheesy Garlic-Herb Drop Biscuits or Texas Skillet Bread.
In a 4-quart saucepan over med-high heat, melt coconut oil. When hot, but not smoking, add the onion and cook until golden brown around the edges and beginning to caramelize, about 8 minutes. Reduce heat to medium and add celery, bell pepper, and garlic; cook for about 5 minutes more.
Add the chicken broth, tomatoes with juice, lentils, and oregano. Bring to a boil. Reduce heat to low and simmer for about 45 minutes, until lentils are tender.
Insert a stick blender into the pan and blend in short bursts, 2-3 times, not much more; the goal is to puree a little of the soup, but leave some of the lentils whole. This gives the soup extra texture.
If the soup is too thick, add a little extra water 1/4 cup at a time until the soup reaches the desired consistency. Add the balsamic vinegar. Season to taste with cayenne, if desired, and salt and pepper.
Garnish each serving with a drizzle of extra-virgin olive oil and a sprinkle of chopped parsley, cilantro, or celery leaves. The soup is also great with crumbled goat cheese on top.
Serves 8.
*Sugar-Free / Grain-Free

Email To A Friend

Print This Page