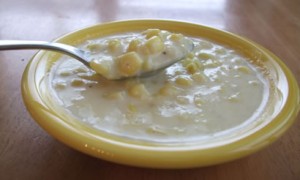 This creamed corn is easy to make and tastes delicious. It is a great side-dish with most meals. You could also use this as a base for a yummy corn chowder. Just add other steamed vegetables of your choice and some chopped-cooked-chicken if desired, and you have a wonderful complete meal.

Easy Creamed Corn
Creamed corn is an all American side that is loved by many. This version is far tastier and better for you than its canned counterpart... not to mention so easy to make.
Ingredients
1 cup whole milk or cream (you can use either, or a combination)
2½ cups frozen organic corn, thawed and well-drained
2 teaspoons arrowroot powder
1 teaspoon raw honey
1 Tablespoon butter
sea salt and white pepper to taste
Instructions
Combine milk (or cream) and 1 cup of corn in a blender or food processor. Process for about 30 seconds, until corn and milk are pureed together. Remove 1 to 2 Tablespoons of the puree to a small glass or measuring cup, whisk in the arrowroot, set aside.
Pour remaining puree into a small 1-quart saucepan. Add honey and remaining corn (1½ cups); heat over medium heat, stirring often, until honey in melted and mixture almost comes to a boil.
Pour in the arrowroot mixture and continue to cook over medium heat until thickened.
Remove from heat, add butter and stir until melted. Season to taste with sea salt and pepper. Serve hot.
Notes
Makes 4-side dish servings.