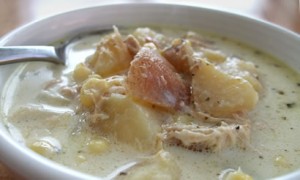 This hearty. creamy potato chowder is especially wonderful on a chilly day. The soup gets its richness from the cream cheese that is gently melted in at the end of cooking. You can fill this delicious soup with any of your favorite vegetables such as corn, peas, carrots etc. (even broccoli would be good). Since the soup is simmered on low, in the crock-pot, all day it makes for an easy fix-it and forget it meal. This recipe is part of Pennywise Platter Thursday @ The Nourishing Gourmet.

1 to 1 1/4 pounds boneless, skinless chicken breast or thighs, cut into bite-sized pieces
1/2 teaspoon garlic, minced
1 Tablespoon virgin coconut oil
6 cups diced, unpeeled, red potatoes (scrub and rinse potatoes well first)
1 medium onion, chopped
2 cups frozen organic corn (or peas, carrots / mix of your favorite vegetables)
1 quart chicken broth
2 cups filtered water
1 teaspoon dried thyme
1 teaspoon cumin
8 to 12 ounces cream cheese, cubed (I use 12 oz. for extra creamy-richness)
white pepper, to taste
sea salt, to taste
Heat 1 Tablespoon coconut oil in a large skillet over medium heat. Add chicken and garlic; cook until only a little pink remains.
Dump the whole skillet of chicken-garlic-oil into a 5 to 6-quart crock pot. Add diced potatoes, onion, vegetables (if larger pieces add now, if smaller add towards the end of cooking), broth, water, thyme, and cumin.
Cover and cook on low heat setting for 6 to 8 hours, until potatoes are very tender.
Add the cubed cream cheese and stir until blended. Season to taste with white pepper and sea salt.
Serves 10 to 12.