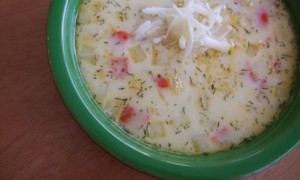 Corn is one of my favorite vegetables….and I love it in this chowder with salmon. This dish is easy to prepare and utilizes canned salmon for convenience. Don't forget to add some shredded cheddar cheese on top, it adds that finishing touch.
3 Tablespoons coconut oil or ghee
3 Tablespoons garbanzo bean flour
OR all-purpose flour
1 medium onion, chopped
1/2 of a large red bell pepper, chopped
2 cups chicken broth
2 cups raw whole milk
2 1/2 cups frozen corn
1 teaspoon garlic, minced
1/2 teaspoon dried dill
1/8 teaspoon white pepper
2 cans (6 ounces each) Alaskan salmon, drained and flaked with a fork
unrefined sea salt, to taste
1/2 cup sour cream
shredded cheddar cheese, for garnish
Heat oil (or ghee) in a 3 to 4 quart saucepan over medium-high heat. Add onion and bell pepper, cook until tender, about 2 to 3 minutes. Add in flour and cook for 1 to 2 minutes.
Stir in broth, milk, corn, garlic, dill, and white pepper. Cook until mixture comes to a boil, stirring often.
Reduce heat and cook for a few minutes more, until soup is thickened.
Add the drained, flaked, canned salmon and sour cream; stir gently until heated through. Season to taste with salt until desired flavor is reached.
Garnish each serving with shredded cheddar cheese.
Serves 4 to 6.