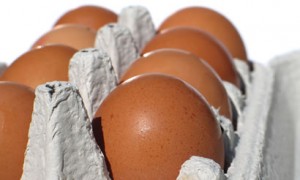 There is an art to cooking eggs in the shell, but don't fear it is easier than you may think. Here's how to cook them perfectly and avoid that green tinge in the yolk.
Place eggs in single layer in saucepan.
Cover eggs with at least one inch of cold water over tops of the shells.
Cover the pan with a lid, bring to a boil over medium-high heat.
As soon as the water comes to a full boil, remove pan from the heat.
Let stand, covered in pan, for 15 minutes.
Drain eggs.
Immediately place eggs in bowl of ice water. (This is important to avoid the green tinge in the yolk.)
Remove eggs from water when completely cooled.
Serve the eggs right away, sprinkled with a little sea salt; or store in the refrigerator for later. One of my favorite uses for hard-boiled eggs is deviled eggs…..of course 🙂