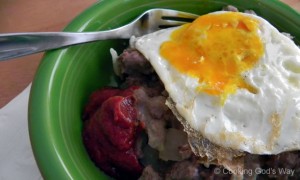 This meal is easy to pull together and simple in all manners. Simple as it is though, your family will enjoy it no doubt – as mine do 🙂 Serve with Eggs cooked Over-Easy (1 per person/serving) and Lacto-fermented Ketchup (BBQ Sauce).
This hearty meal makes a great dinner as well as breakfast.

1 1/2 pounds grass-fed ground beef
1 medium onion, chopped
2 cloves garlic, minced
3 Tablespoons coconut oil
1 pound russet potatoes (about 2 medium), peeled, cut into 1/4-inch cubes, and parboiled (see below)
1 teaspoon dried oregano (or use your favorite dried herb)
1/2 cup sour cream
unrefined sea salt and black pepper, to taste
1/4 cup raw milk, or more to desired consistency
For Serving:
Eggs cooked Over-Easy (1 per person/serving)
Lacto-fermented Ketchup (BBQ Sauce), if desired
Parboiling the Potatoes:

It might seem like extra work, but it is so easy and can be done while you are dicing the onions and getting other ingredients ready. Just watch the potatoes carefully…if you over cook them then they will fall apart. This step can be done earlier in the day, or even a day ahead, and refrigerated until needed >> (This is what I usually do).


Place diced potatoes in a pot of cold water. Bring to a boil. Continue boiling for 7 to 10 minutes, until the potatoes are just fork tender (NOT soft and mushy). Immediately after cooking, dunk the potatoes in ice water to stop the cooking. Drain well, set aside.
Heat 1 Tbsp. coconut oil in a large skillet over medium heat. Add the ground beef, onions, and garlic – cooking until the beef is no longer pink and the onions are tender. Remove beef mixture from skillet and set aside, discarding any excess oil.
Add 2 Tbsp. coconut oil to the skillet and heat over medium heat. Add in the parboiled cubed potatoes and cook until browned – about 10 to 15 minutes or so – stirring frequently.
Add the meat back to the skillet, along with the oregano. Stir to combine.
Add in the sour cream, stir to combine –  season to taste with salt and pepper. Thin with milk to desired consistency, the ideal would be thick but not too dry. Cook for a few minutes more, until heated through.
Top each serving with an Egg cooked "Over Easy" and serve with a dollop of Lacto-fermented Ketchup (BBQ Sauce), if desired.
Serves 6.