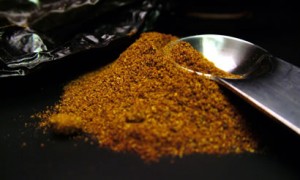 Why buy pre-packaged taco seasoning when you can make your own? It's simple to mix up and made with common spices you probably already have on hand. Not to mention, it doesn't include un-necessary ingredients like MSG and partially hydrogenated soybean oil (yuck!). You can use this seasoning blend in tacos, burritos, Mexican rice, and more.
1/4 cup chili powder
1 teaspoon garlic powder
1 teaspoon onion powder
1 teaspoon crushed red pepper flakes
1 teaspoon dried oregano
2 teaspoon paprika
2 Tablespoons ground cumin
1 Tablespoon coarse sea salt (such as 'sel gris')
2 teaspoons black pepper
2 Tablespoons arrowroot powder
Mix all ingredients together until well combined. Store in an air-tight container in your pantry or cupboard. Will last for several months this way.
To Use: Cook 1 pound of ground beef/chicken, add about 3 Tablespoons mix and 1/3 to 2/3 cup water as needed to make meat mixture as saucy as you desire. Simmer until thickened.
Makes 3/4 cup of seasoning mix.
*Sugar-Free / Grain-Free

Email To A Friend

Print This Page