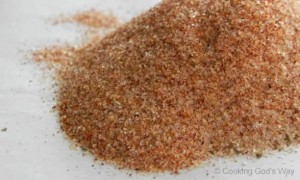 Fresh, homemade spices are tastier and healthier than their store-bought counter parts (which typically contain additives in the form of anti-caking agents).  It's so easy to make your own seasoning blends at home, and usually for a fraction of the cost.
This homemade seasoning salt blend tastes similar (but even better) than the brand name seasoned salt… you know the one that starts with the letter "L". It's great sprinkled on everything from homemade mac & cheese to homemade popcorn, and so on. Try it anywhere you would normally sprinkle a little salt on your food.
4 Tablespoons fine sea salt
2 teaspoons paprika
1/2 teaspoon turmeric
1/2 teaspoon onion powder
1/2 teaspoon garlic powder
1/2 teaspoon celery seed
1/2 teaspoon ground cumin
Mix all spices together in an air-tight container.
Store in a cool-dark place. Will last for several months.
Makes 1/3-cup.
*Sugar-Free / Grain-Free