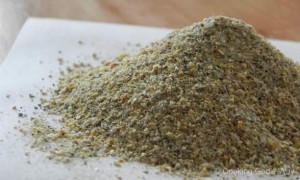 Making your own homemade seasoning blends couldn't be easier. They're better tasting than those bottles that have been sitting on the store shelve for who knows how long, and not to mention healthier due to the fact that they won't contain harmful chemicals/additives in the form of anti-caking agents and so on.
This zippy, yet peppery Lemon-Pepper Seasoning Blend is the perfect way to liven up your favorite chicken, fish, and seafood recipes.
4 Tablespoons dried lemon peel (dry your own OR buy at Mountain Rose Herbs)
2 Tablespoons whole black peppercorns
3 teaspoons fine sea salt
1 teaspoon citric acid (available at most cheese-making supply stores OR at Mountain Rose Herbs)
Grind dried lemon peel and peppercorns to desired coarseness using one of the following methods:
Spice Grinder
Coffee Grinder (one you use only for spices)
Vita-Mix (dry blade container)
Mix together the ground lemon peel/peppercorns with the salt and citric acid to combine.
Place mixture in an air-tight container and store in a cool-dark place. Will last for several months.
Makes scant 1/2 cup.
*Sugar-Free / Grain-Free