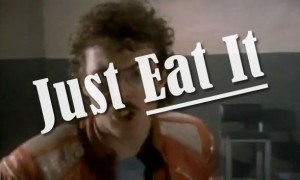 Ever feel like you are just being told to do things and not given much of a choice. Eating healthy is not a natural happening in the U.S. The Standard American Diet (SAD) is loaded with sugar and simple carbohydrates. Where did this diet come from? Would our "Mother Knows Best" Mom of the 50's who was into protecting her family the best she could have us eat these SAD diets. I think not! The SAD diet evolved out of an overly trusting public and organizations (Corporate or Gov't) willing to exploit that trust. In the end we as a society were told to "Just Eat It!" and the SAD diet was born.
Now that we have had the our history lesson… sort of. 😉 I believe we should close our week with some media entertainment that will sum up how we are being told to "Just Eat It!", by most of the commercials on TV today. So sit back crank up the sound and prepare to be enlightened. It is OK to sing and laugh, it is FRIDAY!
We give this film an "A" for fun and it's kid safe!
Let me know (by comments below) what you thought about the quality film I picked out.
"Eat It" – Weird Al Yankovic
Eat It by Weird Al Yankovic – Lyrics
How come you're always such a fussy young man
Don't want no Captain Crunch, don't want no Raisin Bran
Well, don't you know that other kids are starving in Japan
So eat it, just eat it
Don't want to argue, I don't want to debate
Don't want to hear about what kind of food you hate
You won't get no dessert 'till you clean off your plate
So eat it
Don't you tell me you're full
Just eat it, eat it, eat it, eat it
Get yourself an egg and beat it
Have some more chicken, have some more pie
It doesn't matter if it's boiled or fried
Just eat it, eat it, just eat it, eat it
Just eat it, eat it, just eat it, eat it, ooh
Your table manners are some cryin' shame
You're playin' with your food, this ain't some kind of game
Now, if you starve to death, you'll just have yourself to blame
So eat it, just eat it
You better listen, better do what you're told
You haven't even touched your tuna casserole
You better chow down or it's gonna get cold
So eat it
I don't care if you're full
Just eat it, eat it, eat it, eat it
Open up your mouth and feed it
Have some more yogurt, have some more spam
It doesn't matter if it's fresh or canned
Just eat it, eat it, eat it, eat it
Don't you make me repeat it
Have a banana, have a whole bunch
It doesn't matter what you had for lunch
Just eat it, eat it, eat it, eat it
Eat it, eat it, eat it, eat it
Eat it, eat it, eat it, eat it
If it's gettin' cold, reheat it
Have a big dinner, have a light snack
If you don't like it, you can't send it back
Just eat it, eat it, eat it, eat it
Get yourself an egg and beat it (oh lord)
Have some more chicken, have some more pie
It doesn't matter if it's boiled or fried
Just eat it, eat it, eat it, eat it
Don't you make me repeat it (oh no)
Have a banana, have a whole bunch
It doesn't matter what you had for lunch
Just eat it, eat it, eat it, eat it