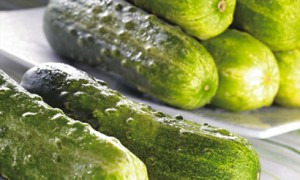 We love pickles in our family, and these ones are our definite favorites…. Deli-Style, delicious, "good for you", yumminess 🙂 My kids would eat half the jar in one sitting, if I let them 😉
3 to 4 pickling cucumbers, depending on size
2 cups filtered water
1 1/2 Tablespoons unrefined sea salt (Pink Himalayan or Real Salt works well)
1 clove garlic, thinly sliced cross-wise
3 to 5 sprigs fresh dill
1 teaspoon pickling spice
1/4 teaspoon dill seeds
1 bay leaf, broken in half
Other Items you will Need:
1-quart sized wide-mouth jar (preferably with air-lock lid)
Wash cucumbers. If cucumbers are not freshly picked, soak in very icy water for at least 2 hours. Drain and pat dry.
Make your brine by mixing water and sea salt together until dissolved, set aside.
Cut off stem end of cucumbers and discard; slice cucumbers into spears by cutting them length-wise into quarters.
Place all spices, including garlic, in the bottom of a 1-quart sized mason jar, or other same size fermentation jar with air-lock lid.
Pack the cucumbers spears inside the jar tightly, cut stem-end down. Packing them in tightly will help to keep the pickles from floating when you add the brine. Break bay leaf into two pieces, place in-between pickle spears.
Pour the brine (salt water) over the cucumbers to cover completely. Be sure to leave 1-inch of space in the jar for expansion. (If you need more liquid to cover the cucumbers, make up another batch of brine using same ratio of salt to water as mentioned above.)
Place lid (preferably air-lock lid) on the jar tightly. If using air-lock fill with water according to instructions. Allow to ferment, at room temperature, for 2 to 3 days. (Pickles are done when they taste good to you.)
Remove air-lock lid, if using, and replace with storage lid — transfer to cold storage.
Makes 1-quart
*Sugar-Free / Grain-Free