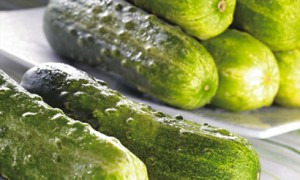 We all love pickles here in our family. So much so that I planted multiple pickling cucumber bushes this year, and will definitely be making many jars of these lacto-fermented pickles. Lacto-fermentation is the natural-traditional process of "pickling" foods that creates the good for you bacteria, Probiotics, the ones that are so vital for overall good health. Did you know 80% of Your Immune System is in Your GI Tract? Eating some cultured "lacto-fermented" condiment everyday helps boost healthy gut flora.
1 pound pickling cucumbers (about 6-8, depending on size)
4 Tablespoons whey (see how to obtain whey)
1 cup filtered water, plus more as needed
1 Tablespoon sea salt
1 teaspoon dried dill,
OR 2 Tablespoons snipped fresh dill
1 teaspoon yellow mustard seeds
Other Items you will Need:
1-quart sized wide-mouth jar (preferably with air-lock lid)
Make sure your jar is very clean.
Wash cucumbers well and place in a bowl of ice cold water to cover. Meanwhile prepare the pickling liquid.
Mix 1 cup filtered water, 4 Tablespoons whey, and 1 Tablespoon salt together until the salt dissolves. Mix in the dill and mustard seeds; set aside.
Remove cucumbers from the ice water and cut into 1/4-inch slices. Place slices into jar, laying them as flat as possible. Fill the jar to 1-inch from the top to leave space for expansion.
Pour the pickling liquid over the cucumber slices in the jar. Add additional filtered water as needed to cover the cucumbers, leaving 1-inch space from the top of the jar.
Place lid (preferably air-lock lid) on the jar tightly. If using air-lock fill with water according to instructions. Allow to ferment (culture) for 2 days at room temperature.
Remove air-lock lid, if using, and replace with storage lid — transfer to cold storage.
Makes 1-quart.
*Sugar-Free / Grain-Free