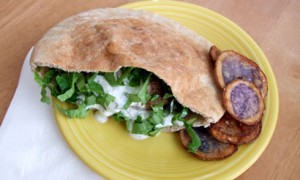 I came across some grass-fed ground lamb and just had to try it. So I made these gyros (lamb burgers stuffed in a pita). And boy did they really hit the spot. They were a fabulous lunch and quite filling. The yogurt sauce really made these lamb-burgers shine (the recipe is below). Try these and you will definitely want to make these again and again. I know my family is after me already to make them again. I guess I have to get some more ground lamb 🙂
On a sugar-free / grain-free diet? Serve these burgers without the pita, on a bed of lettuce and drizzled generously with the yogurt sauce. Mmmmm!

1 pound grass-fed lamb
1 teaspoon dried oregano
1 teaspoon garlic, minced
1/4 teaspoon pepper
1/4 teaspoon onion powder
1/2 teaspoon ground cumin
1/4 teaspoon salt
4 whole wheat pita bread rounds (6-inch), cut 1 to 2 inches off the top of each pita
1 1/2 cups chopped or shredded lettuce
1 recipe, Yogurt Sauce (Tzatziki), prepare the night before (see recipe below)
Place ground lamb in a large mixing bowl, add the oregano, garlic, pepper, onion powder, cumin, and salt. Mix until thoroughly combined.
Form lamb mixture into 4 oblong-shaped patties about 1/2-inch thick. Grill or broil until desired doneness.
To serve, open pita to form a pocket, fill with some lettuce, insert burger, fill with some more lettuce, and drizzle generously with the Yogurt Sauce (Tzatziki). Repeat with the rest of the pitas.
Serves 4.
Yogurt Sauce (Tzatziki)

3/4 cup whole yogurt
1/4 teaspoon garlic, minced
1/2 cup grated cucumber (scoop out seeds with a spoon first, then grate and squeeze out excess water)
1 teaspoon extra-virgin olive oil
3/4 teaspoon lemon juice
salt, to taste
1 teaspoon dried dill

Mix all ingredients together in a small jar or bowl until combined. Cover and refrigerate overnight to let the flavors meld.

Makes about 1-cup of sauce.

Email To A Friend

Print This Page