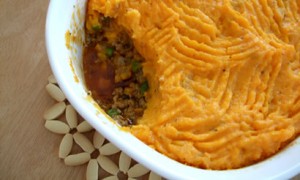 This "shepherd's pie" or "cottage pie", whichever you prefer to call it, gets a boost of Vitamin A from the sweet potato topping. It is full of 'good for you' veggies, and tastes great….even picky eaters will love it. You can easily customize this dish by adding which vegetables you prefer in the amounts you prefer. It can be made with ground lamb, giving it the name "Shepherd's Pie", or with ground beef, giving it the name "Cottage Pie"……..all this silly name stuff aside, whatever you call it, it's delicious!
2 pounds grass-fed ground lamb or beef
4 Tablespoons butter
1 medium onion, chopped
3 cups frozen mixed vegetables (such as carrots, corn, peas, etc.)
beef broth OR chicken broth, as needed
1 can (6 ounces) tomato paste
2 Tablespoons raw apple cider vinegar
salt and pepper, to taste
1 teaspoon minced garlic
1 Tablespoon Herbes de Provence, or other favorite dried herb
2 pounds sweet potatoes (about 3 large)
1 cup (4 ounces) shredded organic cheddar cheese
Peel sweet potatoes and cut into chunks. Cook until very tender by desired method – steaming, boiling, baking, etc. Meanwhile move on to preparing the meat-veggie mixture.
Preheat oven to 375°F.
Melt butter in a large skillet over medium heat. Add the onions and garlic, cook until just tender. Add in the frozen vegetables and ground lamb (or beef), cook until meat is just barely pink. Drain off any excess liquid if necessary.
Stir in the tomato paste, and vinegar. Add in the herbes and season to taste with salt and pepper. If needed thin mixture with a little broth. Stir to combine. Pour meat-veggie mixture into a large glass or ceramic casserole, smooth out the mixture evenly in the dish. Set aside.
When the potatoes are done, add them to a clean medium-sized bowl. Mash the potatoes with a fork, or potato masher. When the potatoes are slightly mashed, but still a little chunky, add the shredded cheese. Continue to mash until the desired texture is reached. If you would like a very smooth texture, I would suggest using an electric hand mixer to finish off the potatoes. This makes them super light and fluffy. Season the potatoes well with salt and pepper.
Scoop the mashed potatoes into the casserole, on top of the meat-veggie mixture. Use a fork to spread out the potatoes, this helps keep any veggies out of the potato topping and makes for a pretty appearance.
Place the casserole in the preheated oven and bake for 20 minutes.
Serves 8.