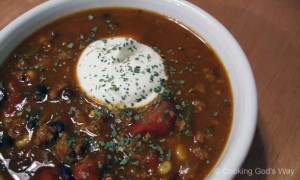 This chili is a twist on a classic comfort food dish that most everyone loves. The sweet potato puree in this version really gives the chili a different and welcome new flavor. When I made this I thought it would probably taste pretty good, but I had no idea that it would get such outstanding reviews from my children and especially my husband! Enjoy this with some homemade spelt biscuits or texas skillet bread*.
1 pound grass-fed ground lamb or beef
OR 1 1/2 cups diced chicken/turkey meat
1 Tablespoon coconut oil
1/2 of a large onion, chopped
1/2 of a green bell pepper, chopped (one night I ran out of bell pepper and used 2 stalks of celery and it was still a hit)
1 teaspoon minced garlic (2 cloves)
1 to 2 Tablespoons chili powder, to taste
1 teaspoon Mexican oregano (or standard oregano)
1 can (15 ounces) organic sweet potato puree (or 1 3/4 cup homemade sweet potato puree)
1 can (14.5 ounces) diced tomatoes, undrained
OR 3 diced Roma tomatoes
1 cup chicken broth or water
1 cup frozen organic corn
1 can (15 ounces) black beans, drained and rinsed
OR 1 1/2 cups home-cooked beans
salt and pepper, to taste
cayenne pepper, to taste (optional)
sour cream, for garnish (optional)
chopped fresh cilantro, for garnish (optional)
In a 4-quart pot, melt the oil over medium-high heat. Add onions and bell pepper, cook for a few minutes until slightly softened. Add ground lamb (or beef) to the pot and cook until just barely any pink remains. Add minced garlic, chili powder, and oregano; stir to combine.
Next add in the sweet potato puree, canned tomatoes with their juice, and the broth (or water); stir until mixed through. Bring to a boil. Add the frozen corn and canned/drained black beans, stir once more. Reduce heat and let simmer for 10 to 15 minutes, the chili should thicken/reduce slightly. Season with salt and pepper, to taste along with a little cayenne (for spice, optional).
To serve, garnish with sour cream and chopped fresh cilantro if desired.
Makes 6 servings.