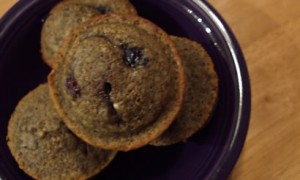 These muffins were inspired by my favorite pancakes……blueberry buckwheat pancakes with real maple syrup. Mmmmm! they are so good…..and these little muffins are no exception. They are lightly sweetened with real maple syrup and stevia, and full of juicy blueberries. The muffins benefit from and overnight soaking, which in-turn will benefit you and your family's health. To read more about soaking grains, read this article or get a copy of Nourishing Traditions: The Cookbook that Challenges Politically Correct Nutrition and the Diet Dictocrats
by Sally Fallon (you can find this book in our store).
3/4 cup buckwheat flour
1 cup spelt flour
1/4 cup coconut oil or butter, melted
1 cup buttermilk (or 2 Tbsp. lemon juice plus enough raw milk to equal 1 cup)
1/4 cup maple syrup (or raw honey – though it will give the muffins a slightly different favor…..good, but just different)
1 large egg
1/8 teaspoon (dash) of NuNaturals NuStevia™ White Stevia™ Powder
1/2 teaspoon unrefined sea salt
1 1/2 teaspoons baking powder
1/2 teaspoon baking soda
1 cup fresh or frozen blueberries (unthawed)
In a large bowl mix the buckwheat flour, spelt flour, melted coconut oil, and buttermilk. Combine until well moistened; mixture will be wet and gooey. Cover and let soak overnight.
The next day, or after about 12 hours of soaking, when you are ready to bake the muffins, preheat oven to 400°F. Grease a 24-cup mini-muffin pan with coconut oil and set aside.
To the bowl of soaking muffin dough, add the maple syrup, stevia powder, egg, salt, baking powder, and baking soda. Stir with a wooden spoon to combine. Gently fold in the fresh or frozen blueberries.
Spoon the batter into the prepared muffin pan, fill muffin cups 2/3 full. Bake muffins for 10 to 12 minutes, or until light golden around the edges and a tooth-pick inserted in the center of a muffin comes out clean. Cool 5 minutes. Remove from pan to a rack and cool completely. Serve cool or slightly warm.
Makes 2 dozen Mini Muffins