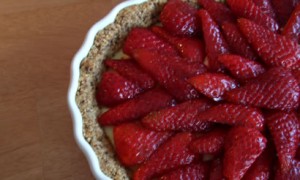 This is an easy, simple dessert…..perfect for summer and great for many occasions. Take this along to a picnic or cookout and you will impress everyone with this delicious, healthy treat.
Remove tops of strawberries, then slice in quarters. Place sliced strawberries in a medium bowl and sprinkle 2 teaspons rapadura. Gently toss to coat and store in refrigerator for 1 to 2 hours, until chilled and slightly juicy.
Meanwhile, fill prepared crust with chilled lemon curd. Refrigerate until set.
When strawberries are ready, place them on top of the lemon curd and layer evenly to cover; pour any strawberry juice over the top.
Re-chill for 1 or 2 hours before serving, if desired.
Makes 1 – 9 inch tart.