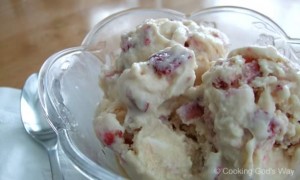 This homemade ice cream is a favorite around here, especially in the summer when strawberries are at their peak. With a deliciously rich taste reminiscent of a slice of strawberry cheesecake, it's hard not to love this frozen treat. If strawberries are not your thing or are not in-season/available, you may substitute another favorite fruit.

2 1/2 cups whole raw milk OR cream, divided
3 egg yolks, from farm-fresh pastured eggs
1/3 to 1/2 cup raw honey OR maple syrup
8 ounces cream cheese, cubed
1 teaspoon vanilla extract
1/2 teaspoon lemon extract (or 1 teaspoon fresh lemon zest)
1 cup fresh strawberries, chopped
1 Tablespoon maple sugar OR rapadura / sucanat
Place chopped strawberries in a small bowl with 1 Tablespoon of maple sugar, stir to evenly mix. Set the bowl of strawberries in the fridge for later use.
In a small saucepan, heat 1/2 cup of milk (or cream) over medium heat until hot to the touch. Stir in cubed cream cheese until melted and mostly smooth. Stir in honey until combined. Set aside to cool slightly.
In a large bowl beat egg yolks. Whisk in remaining milk (or cream), vanilla, and lemon extract (or zest).
Once cream cheese mixture is cooled slightly (just warm), slowly pour into the egg yolk mixture while whisking constantly to combine. Mix until smooth. Place bowl in the fridge until well chilled, at least 2 hours.
Pour mixture into container of ice cream maker, such as the one I use – Cuisinart 1-1/2-Quart Automatic Ice Cream Maker
. Freeze according to manufactures instructions…. about 20 to 30 minutes in my machine.
10 minutes before ice cream is finished, add in the chopped strawberries with any juice they created. Continue to let the machine run until ice cream is slightly firm, but more like a soft-serve consistency.
Place in a freezer-safe container and put in the freezer to ripen (firm-up) for several hours before serving.
Makes 1 1/2-quarts.