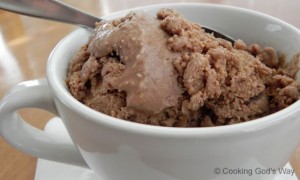 Our second favorite flavor of coconut milk ice cream is this one, Mocha-Coffee "Coconut Milk" Ice Cream. Everyone in the family appreciates this flavor, as it is always gobbled up in one sitting.
It's rich, deep, and very satisfying — I know it's dessert, but think how good it is for you (with the coconut milk and all) 😀
*Want to make it sugar-free? See recipe note below for instructions…

1 can (14 oz.) full fat coconut milk
1/3 cup real maple syrup* (see note below)
1 1/2 cups brewed Teeccino, double strength
2 teaspoons gelatin powder
OR 3/4 teaspoon agar agar powder (not flakes)
2 Tablespoons raw cacao powder
1/2 teaspoon vanilla extract
Dash (1/8 tsp.) unrefined sea salt
Place 1 1/2 cups double-strength brewed Teeccino in a small saucepan. Bring to a boil, immediately reduce heat to a simmer (low boil). Continue simmering for 15 minutes, or until Teeccino is reduced to 1 cup. Remove from heat and sprinkle the gelatin (or agar powder) evenly over top. Set aside to bloom (absorb water) for about 5 minutes. Stir to dissolve. Set pan aside to cool slightly.
Meanwhile, add the coconut milk, maple syrup, cacao powder, vanilla, and salt to a mixing bowl. Whisk together to combine. (If your coconut milk is a little lumpy, you may want to mix this in a blender instead.)
Add in the slightly cooled Teeccino and whisk well to incorporate. Place bowl in the fridge to chill for 2+ hours, until mixture is very cold.
Place mixture in the container of your ice cream maker and freeze according to manufacturer's directions, usually about 20 to 30 minutes.
Makes 1-quart.
*Recipe Note:

You can make this ice cream Sugar-Free by using 1/3 cup extra water or coconut milk (to replace the maple syrup) and use Stevia liquid or powder to sweeten to taste.

Email To A Friend

Print This Page