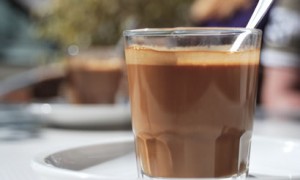 Teeccino is a wonderful herbal coffee, it doesn't contain coffee…therefore it has absolutely NO caffeine, but tastes just like coffee (read more about it here). Did you know that even decaf coffee has at least 7 to 10 mg of caffeine per 6 ounce cup, and decaf coffee brewed at coffee bars can contain twice as much caffeine because they typically brew coffee stronger. Enjoy this delicious hot mocha three ways….regular, cinnamon, or peppermint. It is also great served over ice, simply use extra-strong brewed Teeccino instead of regular-strength. If you can handle regular coffee, feel free to use it…but drink it in moderation as it is acidic to the body…read more about Coffee & Your Health.
In a small saucepan, heat brewed Teeccino, milk (or cream), chocolate, honey, and coconut cream or coconut oil (if using) until chocolate melts and mixture is hot; stirring continuously.
Add vanilla and stevia drops (to taste). Enjoy hot. For flavor options see below.
Cinnamon-Mocha Variation: Add 1/4 teaspoon ground cinnamon to the milk mixture as it is heating up.
Peppermint-Mocha Variation: Add 1/4 teaspoon, or more to taste, of pure peppermint extract just before serving.
~Extra Frothy Mocha: Carefully use an immersion blender, in the saucepan, to froth up the milk mixture after it is heated, just before serving.
Serves 2.