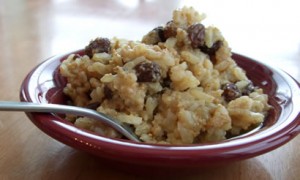 The coconut milk in this whole-grain dessert lends a richness and also a sweetness (along with the raisins). Which in turn lessens the need for a lot of extra sweetener. This is a very simple, yet satisfying dessert that anyone would enjoy.

2 eggs
1 can (14 ounces) coconut milk
1/4 to 1/3 cup maple sugar (you could also use rapadura or sucanat, or even 1/8 tsp. NuNaturals NuStevia™ White Stevia™ Powder to sweeten instead)
1 teaspoon vanilla extract
zest of 1 lemon (optional, but brightens the flavor of the pudding)
1 teaspoon ground cinnamon
1/4 teaspoon ground nutmeg
pinch of sea salt
3 cups cooked brown rice
2/3 cup organic raisins
Preheat oven to 375°F. Grease a 9-inch square baking dish with butter or coconut oil; set aside.
In a medium bowl, whisk together eggs, coconut milk, sugar, vanilla, lemon zest, cinnamon, nutmeg, and salt.
Stir in cooked rice and raisins to combine. Spread the mixture evenly in prepared baking dish.
Cover with foil and bake for 30 minutes. Remove foil, stir, and continue baking, uncovered, for 30 minutes more until most of the liquid is absorbed.
Let cool for 10 minutes before serving.
Serves 4 to 6.