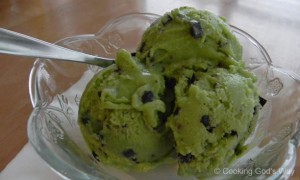 This coconut milk ice cream is a wonderful treat and is enjoyed by most in our house (all who like mint – which is all but one). The ice cream is different in that it uses fresh baby spinach for a lovely green color. Though not to worry, there is no trace of spinach taste left behind. Great for holidays, special occasions, or any day for that matter 🙂
Place 1/2 cup of the water in a small saucepan, sprinkle the gelatin (or agar powder) over top. Set aside to bloom (absorb water) for about 5 minutes.
Meanwhile, add the coconut milk, spinach leaves, maple syrup, and remaining 1/2 cup water to container of blender. Process until the spinach is fully blended. If some large-ish spinach pieces remain, this probably means you do not have a Vita-Mix ;). Well this is okay. Simply strain the mixture through a sieve to remove the pieces of spinach. Place blended mixture into a large bowl, set aside.
Place the saucepan of water-gelatin over medium heat. Warm gently until the gelatin is dissolved, but DO NOT boil. Remove from heat once gelatin is dissolved. Add this to the bowl of coconut milk mixture. Stir together to combine.
Add peppermint and mint extracts (if using), vanilla, and salt. Adjust to your taste and put bowl in the fridge to chill for 2 hours.
Place mixture in the container of your ice cream maker and freeze according to manufacturer's directions, usually about 20 to 30 minutes. Add in chopped chocolate during the last 5 minutes of churning.
Makes 1-quart.