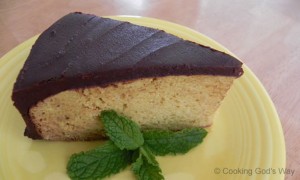 This cake is delicious, healthy, reduced in sugar, and grain-free. And yes I really mean the delicious part. The cake is made with one secret ingredient that might have you unsure about it, but trust me when I say you won't even know it's there when you take a bite. What is this "secret ingredient"?…………well, it's beans. Seems strange, but the beans do not add any flavor to the cake and instead impart a lovely texture and moistness.
Serve this to your family or friends – don't tell them about the beans and they will never suspect they are eating a "grain-free" cake.
2 cups cooked white beans, drained and at room temperature (I used great northern beans, soaked over night, put in fresh water the next morning and cooked until soft)
6 large eggs
1/4 cup honey
1/8 teaspoon NuNaturals NuStevia™ White Stevia™ Powder
3/4 teaspoon unrefined sea salt
1 Tablespoon vanilla extract
1/3 cup butter or coconut oil, melted and cooled
1/3 cup coconut flour, sifted
1 1/2 teaspoons baking powder
1 teaspoon baking soda
Dark Chocolate "Coconut Milk" Fudge Frosting (see recipe below)
OR other desired frosting
Preheat oven to 350F. Grease a 9-inch cake pan generously with coconut oil (or butter) and dust with coconut flour to coat bottom and all sides. Set prepared pan aside.
Add beans to food processor and pulse until broken up. Add in eggs and honey, processing until combined.
Add in the stevia, salt, vanilla, and melted butter. Process until a smooth batter forms.
Add in the coconut flour, baking powder, and baking soda – process until well combined.
Pour batter into prepared pan and baking in preheated oven for 25 to 35 minutes – until a toothpick inserted into the center of cake comes out clean.
Remove cake from oven. Run a thin knife around the edge of the cake in pan. Cool in pan, on rack for 5 minutes. Gently flip cake out of pan directly onto wire rack and cool completely before frosting.
Serves 12+
Dark Chocolate "Coconut Milk" Fudge Frosting

Add coconut milk to a small saucepan. Heat over low-medium heat until just hot to the touch.

Remove from heat and stir in the chopped chocolate until melted. Add in honey, stevia (to taste), vanilla, and salt – stirring to combine.

Stir in 1 Tablespoon coconut flour, followed by another if needed until desired consistency is reached. Frosting will thicken some as it sets.

Immediately frost cake, working quickly, as the cake will "soak up" some of the moisture in the frosting…making it much thicker and harder to spread.

Makes enough frosting to cover 1-layer cake.

Email To A Friend

Print This Page