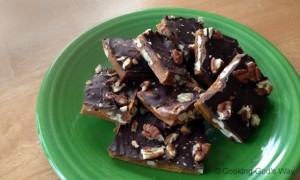 This delicious chocolate toffee-style candy satisfies my sweet tooth and my need desire to for a healthy treat. The whole family really enjoys this "healthy" candy, made with natural unrefined sweeteners. It is a perfect sweet treat to make during the holiday season… I think just about anyone would love to get some of this scrumptious candy as a gift this Christmas!

Salted Chocolate-Toffee Pecan Brittle
This healthy homemade chocolate-toffee candy, pecan brittle, is made with natural, unrefined sweeteners. It makes a delicious treat anytime of the year!
Ingredients
¾ cup sucanat
¾ cup honey or maple syrup (or a combination of the two)
½ cup water
¼ cup butter or coconut oil
¼ cup heavy cream
1 teaspoon vanilla extract
½ teaspoon fine sea salt
½ teaspoon coarse sea salt (for sprinkling top)
1 teaspoon baking soda
1½ cups pecans
½ cup dark chocolate chips
Instructions
Toast the pecans on a large baking sheet @350F for 10 to 15 minutes. Allow to cool. Set nuts aside, reserving and breaking up ¼ cup of the nuts for topping the brittle.
Line a baking sheet with buttered/oiled parchment paper.
Add sucanat, honey (or maple syrup/combo), and water to a medium-sized heavy sauce pan (about 2-quart size should be sufficient).
Heat mixture over medium heat until it reaches 240F.
Add the butter and cream, stirring regularly until mixture reaches 295F to 300F. Remove from the heat quickly once it reaches this temperature so as to avoid scorching or burning the sugar mixture.
Working as quickly as possible, stir in the vanilla extract, ½ teaspoon fine sea salt, baking soda, and 1¼ cup pecans. (Do not be alarmed, the baking soda will cause a reaction with the sugar mixture..."fluffing" up and turning lighter in color.)
Pour hot mixture onto prepared baking sheet. Spread out as thinly as possible and stretch using two forks (stretching causes the brittle to "snap" and be brittle.)
Allow brittle to cool for a minute or two, then while still warm sprinkle the chocolate chips on top. Let stand for several seconds to a minute until chips begin to melt.
Once chips are melted, spread out into a thin layer covering the surface of the brittle. Sprinkle the melted chocolate with ½ tsp. coarse sea salt and ¼ cup chopped pecans.
Place the chocolate-topped brittle in the refrigerator until hard and the chocolate layer solidifies.
When brittle and chocolate layer are hard break into desired size pieces (doing this by hand is best).
Store brittle in an air-tight, covered container in the fridge.
Notes
TIP: Use a reliable digital kitchen or candy thermometer. ***SAFETY NOTE: Always use special care and caution when working with or around hot boiling sugar, and keep little ones away from the kitchen to keep them safe.***