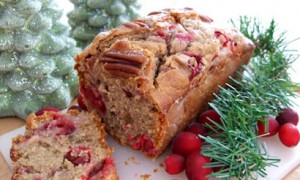 These mini-loaves of orange-glazed cranberry bread make terrific gifts during the holidays. They look so pretty and shiny from the glaze on top and they taste so wonderful that the lucky recipient won't even realize how healthy they are 😉 This recipe should make 4 to 5 mini-loaves, depending on the size of your pans and how much you fill them.
3 cups spelt flour
1 1/2 cups buttermilk (or 1 1/2 Tbsp. apple cider vinegar + enough milk to = 1 1/2 cups)
3/4 cup all-purpose flour
3 teaspoons baking powder
3/4 teaspoon baking soda
3/4 teaspoon salt
3/16 teaspoon (3 pinches)  NuNaturals NuStevia™ White Stevia™ Powder
1/2 cup butter or coconut oil, softened
6 Tbsp. + 3 Tbsp. raw honey, divided
3 large eggs
1/3 cup + 3 Tbsp. freshly squeezed orange juice, divided
zest of 1 large orange
1 1/2 cups fresh or frozen cranberries
2/3 cup chopped pecans, plus more whole pecan pieces for decorating tops
12 to 24 hours before you wish to make the loaves: Stir together the spelt flour and buttermilk in a mixing bowl until moistened all the way through. Cover the bowl with a towel or plastic-wrap and let set for 12 to 24 hours.
The next day, when you are ready to BAKE the loaves: Preheat the oven to 350F. Grease 4 to 5 mini-loaf pans with coconut oil, and then flour lightly with all-purpose flour. Set pans aside.
In a medium bowl, combine the all-purpose flour, baking powder, baking soda, salt, and stevia powder. Set aside.
In a large mixing bowl, beat the softenend butter together with the honey. Beat for about 2 minutes, mixture will be creamy and smooth. Add the eggs, one at a time, beating well after each addition; followed by the orange juice and zest.
Pour in the all-purpose flour mixture and mix on low-speed until combined. Add soaked flour to this all-purpose mixture and beat on low until thoroughly combined. Fold in the cranberries and chopped pecans.
Place mini-loaf pans on a large baking sheet, leaving some space between them. Divide batter among the prepared pans. Decorate tops with whole pecan pieces, if desired. Bake in preheated oven for 30 to 40 minutes, rotating pans halfway through baking, when done a toothpick inserted in the center will come out clean.
Meanwhile, while the loaves are baking, prepare the orange-glaze (see recipe below).
Pour prepared glaze over the hot loaves. Cool loaves in pans on wire racks.
Makes 4 to 5 mini-loafs.
Orange-Honey Glaze

3 Tablespoons freshly squeezed orange juice
3 Tablespoons raw honey

Place orange juice and honey in a 2-cup glass measuring cup. Fill a small saucepan with a small amount of water and bring to a simmer. Turn off heat.

Place the measuring cup filled with the orange juice and honey into the simmering water. Stir until the honey melts into the orange juice.

Keep the orange-honey glaze slightly warm, until you are ready to use. Pour over the loaves as instructed in the above recipe.

Makes enough glaze for 4 to 5 mini-loaves.

Email To A Friend

Print This Page