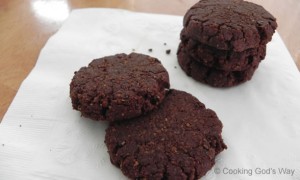 I love making grain-free cookies! They are so quick & easy to make and I usually have everything needed on hand. AND I absolutely LOVE that these nut-based cookies are packed with nutrition, so I can feel good about serving them to my family. These delicate chocolat-y cookies are a yummy treat any time of day!
1 1/2 cups hazelnut meal (finely ground hazelnuts), or almonds would also be nice
1/2 cup cocoa powder
1/2 cup arrowroot powder
1/2 cup rapadura or sucanat
1/2 teaspoon salt (reduce to 1/4 tsp. if using salted butter)
1/2 teaspoon baking soda
1/2 cup butter or coconut oil, melted
1 teaspoon vanilla extract
1/2 teaspoon chocolate extract
OR espresso powder or teeccino herbal coffee
1 large egg, cold
Preheat oven to 350F. Line a baking/cookie sheet with parchment paper, set aside.
Place all dry ingredients in container of food processor, pulse until well combined.
With machine running, drizzle in melted butter/oil. Add in egg and vanilla and process until mixture clumps together.
Scoop out 1-Tablespoon sized portions of dough, gently form into a ball with your hands and place on prepared baking sheet, a few inches apart, repeating until sheet is full.
Bake cookies in preheated oven 5 minutes, then flatten the cookies with the bottom of a flat glass or measuring cup. Continue baking for 5 to 8 minutes more until the cookies are firm at the edges and slightly soft in the center.
Remove to a cooling rack and allow to cool completely.
Makes approx. 2 1/2-dozen cookies.

Email To A Friend

Print This Page