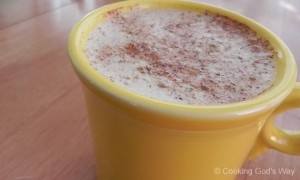 What better drink to have in hand while sitting around the fireplace and singing Christmas Carols during this holiday season. This eggnog latte is delicious, easy to make, and sure to keep you warm on those cold winter nights (or days).
If you can handle regular coffee, feel free to use it in this recipe…but drink it in moderation as it is acidic to the body…read more about Coffee & Your Health.
1 cup brewed Teeccino Herbal Coffee or regular (non-decaf) organic coffee
1 1/2 cups homemade eggnog
1 to 2 Tablespoons real maple syrup
OR few drops stevia liquid, to taste
ground nutmeg, for sprinkling top of coffee
If Teeccino IS freshly brewed and HOT: Gently heat eggnog in a small saucepan, on low heat, until hot (stirring often). Add hot teeccino to the pan and sweeten to taste. Divide among coffee mugs and serve sprinkled with ground nutmeg.
If Teeccino is NOT freshly brewed and hot: In a small saucepan, gently heat brewed Teeccino and eggnog until mixture is hot; stirring often. Sweeten to taste and divide among coffee mugs. Sprinkle with ground nutmeg.
NOTE: Teecino is not like regular coffee. It will not go stale quickly. So you can brew a full pot and save what you don't use. Simply store it in a glass pitcher / container, covered, in the fridge for up to 1 week.

You can use it easily this way in an iced coffee drink, or just reheat it gently on the stove for a hot latte. (Read more about Coffee and Teeccino)
Serves 2.