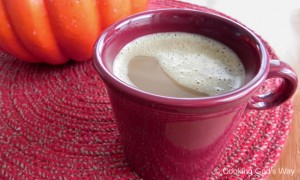 This cold weather has really got me craving something hot to drink. Since I have plenty of frozen pumpkin left from the holidays, I thought I'd utilize some of it. Teeccino to the rescue! Here comes warmth in the shape (eh-hem… taste) of this Pumpkin-Spiced latte. Isn't it nice being toasty warm on the inside? 😀
1 cup hot, brewed, Teeccino Herbal Coffee (any plain flavor, I prefer Java)
1/2 cup warmed milk
2 Tablespoons pumpkin puree (homemade or canned)
2 Tablespoons healthy sweetener (honey, rapadura, coconut sugar, etc.), or to taste
(*For Sugar-free use Stevia liquid or powder, to taste*)
1/4 teaspoon pumpkin pie spice
Mix all ingredients together. If desired you may froth milk first using a milk frother
.
Divide between 2 small mugs or enjoy in 1 large mug.
Serve with whipped cream on top for an extra special treat.
Makes 1-large or 2-small lattes.
Teeccino does not go "stale" like traditional coffee. So any leftover brewed Teeccino can be store in the fridge for about 1 week. This makes it super easy to make "Iced" Lattes in the warmer months of the year. If your Teeccino happens to be cold (from storing in the fridge) and you want to make this recipe, simply heat everything together in a small saucepan on the stove until desired temperature.