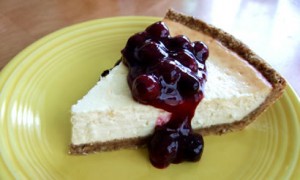 I love cheesecake! This one is lightly sweetened with honey and stevia. Top with the delightful fresh blueberry sauce, and it is really out-of-this-world! The cheesecake is very easy to make…no special equipment needed here, like a water bath, special pan, or magic wand. Just bake it in a regular pie pan for about 30 minutes.
Preheat oven to 325F. Bake the almond pie crust for 10 minutes.
Meanwhile, prepare the filling by beating the softened cream cheese with an electric mixer until creamy. Beat in the honey, stevia powder, and vanilla until thoroughly combined. Add the eggs, one at a time, and beat well.
When crust has cooked for 10 minutes, remove from oven and raise the temperature to 350F.
Pour the filling into the almond pie crust. Gently tap the bottom of the pan onto the counter to let some of the air bubbles escape.
Bake for 25 to 30 minutes. The edges of the filling will be firm and starting to turn light golden; and the center will not be completely set. Cool on a wire rack. Place in the refrigerator until thoroughly chilled, several hours to overnight.
Serve plain, or with Fresh Blueberry Sauce*.
Serves 8.