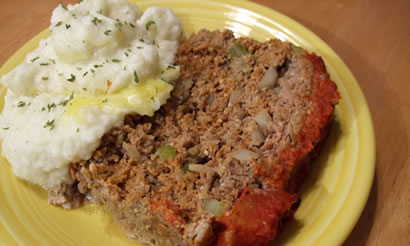 This meatloaf is very versatile, you can add what ingredients you like and omit those you don't. Feel free to experiment with the flavors…add your favorite combination of dried herbs to the mix. You can't go wrong.
2 pounds grass-fed ground beef
3 large eggs
1/4 cup garbanzo bean flour
1/2 cup almond meal
1 medium onion (about 1 cup), finely chopped
1 small green bell pepper, finely chopped
2 stalks celery, finely chopped
1 teaspoon unrefined sea salt
1/8 teaspoon ground black pepper
1/2 teaspoon garlic powder
1/2 teaspoon fennel seed
1 teaspoon dried basil
1 teaspoon dried oregano
tiny pinch cayenne (optional)
1 can (15 ounces) diced tomatoes
1 can (6 ounces) tomato paste
2 teaspoons apple cider vinegar
pinch of salt
Preheat oven to 350°F. In a large bowl add the following ingredients; ground beef, eggs, flour, almond meal, onion, bell pepper, celery, salt, black pepper, garlic, fennel seed, basil, oregano, and cayenne. Mix together well with your hands until combined.
In another bowl, combine the can tomatoes and their juice with the tomato paste, vinegar, and a pinch of salt. Mix well until combined.
Add about 1 cup of sauce to the meat mixture and mix thoroughly. Add the mixed meat mixture to a 9×5-inch loaf pan, top with the remaining tomato sauce.
Bake for 90 minutes, until done (155°F on a meat thermometer). Allow to rest for 5 minutes, then serve.
Serves 8.
*Sugar-Free / Grain-Free

Email To A Friend

Print This Page