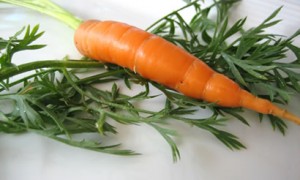 Making vegetable broth is easy to do and doesn't take a lot of time. You can use any vegetables that you have on hand, the basics being carrots, celery, and onions which are pretty inexpensive. You will find many uses for your homemade broth, such as soups, gravies etc.
The great thing about making homemade broth, whether it be chicken, beef, or vegetable, is that you know what you are putting in it. Unlike the box or can in the supermarket, which could be made with inferior ingredients or added chemicals. Homemade broths are highly nutritious and taste so good.
Quick & Easy Homemade Vegetable Broth
If you have other vegetables, feel free to add them as well. This is a good way to use up extra vegetables that you're not sure what to do with, and that might other-wise go bad.
1 Tablespoon butter, extra-virgin olive oil, or virgin coconut oil
3 large onions, chopped
1 bunch celery, chopped
5 large carrots, chopped
1 gallon of filtered water (4 quarts)
1 Tablespoon sea salt
few peppercorns (optional)
few teaspoons dried herbs of your choice (optional)
Heat the butter (or oil) in a large stock pot over medium heat. Add the onions, celery, and carrots; stirring for a few minutes to soften slightly.
Add the filtered water, increase heat to medium-high and bring to a boil. Stir in salt, peppercorns and dried herbs if using.
Reduce heat and simmer, uncovered, for 1 hour. Strain out and discard the vegetables, using a fine mesh sieve.
The broth can be used right away, frozen for a later date, or stored in the refrigerator for a couple of weeks.