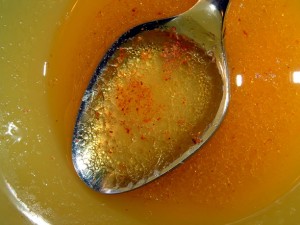 There's nothing that compares to homemade broth or stock. It's full of nutrients and minerals that are easily assimilated by the body. And not to mentions it's just delicious – on it's own or as the base for any homemade soup, stew, or sauce.
Broth is very easy to make at home with a little time and a few ingredients. And just think of all the chemicals and preservatives, along with "hidden" MSG, that you will be avoiding by making your own stock.
This chicken broth can be made with a whole raw chicken carcass or a leftover carcass from a roasted chicken. I usually buy my chicken carcasses from the local butcher for under $5 a piece… they are raw and frozen so I can make stock whenever I want! Super easy and super nutritious!


"Nourishing" Homemade Chicken Broth
Nothing beats homemade broth... whether in a stew, sauce, or even mug all on its own. This mineral-rich broth is easy to make and freezes well... now you can have homemade stock on hand for whatever and whenever you need it.
Ingredients
1 whole chicken carcass (raw or previously cooked, most meat removed)
4 Tablespoons raw apple cider vinegar
6 to 8 quarts (24 to 32 cups) filtered water, or more as needed
1 large onion, coarsely chopped
2 to 4 carrots, cut into chunks
2 to 3 stalks of celery, cut into chunks
1 small bunch fresh parsley, (optional)
unrefined sea salt, to taste (optional)
Instructions
Place the chicken carcass in a large stock pot, along with vinegar and filtered water (the water should completely cover the bones by a couple of inches, add additional water if necessary.). Cover pot and let stand for one hour to allow the minerals to begin leaching out of the bones.
Bring to a boil over high heat. Skim off any scum or foam that rises to the surface.
After skimming, add in all the chopped vegetables (except parsley).
Reduce heat, cover and allow to simmer for 12 to 24 hours. (The longer you cook the stock, the richer and more flavorful it will be. For a super mineral-rich broth I simmer mine for 24 hours.)
About 10 minutes before the stock is finished add in the parsley.
Remove from heat and allow to cool.
Strain off vegetables and bones and pour stock into a large bowl(s). Place strained broth in the refrigerator and allow to chill until the fat is solidified on the top. Once the fat is solidified, skim off and discard or save for cooking with.
Notes
The stock may be used immediately or packaged in desired portions and frozen for up to six months.